We Have Great Stuff: Colouring Book Volume 2
Keywords:
Colouring books, University of Edinburgh, Edinburgh
Synopsis
Welcome to the World of Edinburgh and Colouring.
This edition of the 'We have great stuff' colouring book is centred around the theme of a Treasure Map, in that it explores treasures found around the University of Edinburgh. It combines three things I love: first, the enchanting, beautiful city of Edinburgh, second, walking and exploring the beauty surrounding us, and third, creative pursuits, i.e. colouring. All three have been present in making this book; in finding, photographing and creating the drawings you will hopefully enjoy colouring and exploring.
To walk and explore and being creative to me offer mindful breaks in a busy life, where thoughts and worries are put on hold for a minute, creating a space where I just am. Sometimes taking these breaks and doing something with my hands or my body will lead to solutions for, new ideas or realisations about what occupies my mind.
The aim of this book is to encourage taking mindful breaks from the busy life of a student either in the form of colouring or walking and perhaps experience some of the peace these activities give me. We have therefore included maps at the back that show the locations of the inspiration sources, hence the name Treasure Map.
Images 1-12 and 15-18 are of architectural details found around the University of Edinburgh and are meant to encourage you to explore and appreciate the beauty and possibilities of the University and the city surrounding it. Images 13-14 and 19-25 are based on photos of items found at the Centre for Research Collections housed in the University of Edinburgh's Main Library, and home to books, art, archives, manuscripts and musical instruments.
I hope you enjoy colouring and exploring.
Written by Marta Bloch Christiansen.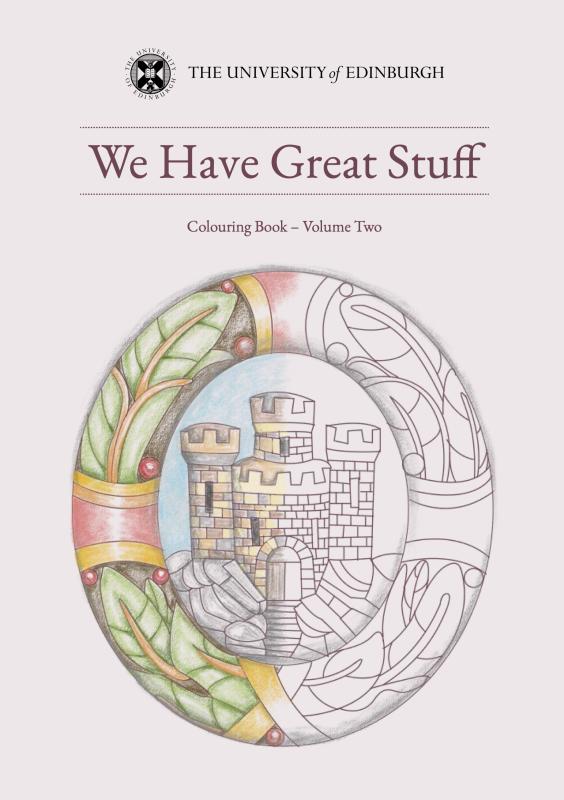 Downloads
Copyright (c) 2022 Stewart Lamb Cromar, Marta Christiansen; Catherine Koppe, Jackie Aim, Tracey McShane, Kirsty Ross, Lily Mellon (Illustrator)
License
This work is licensed under a Creative Commons Attribution 4.0 International License.