We Have Great Stuff: Colouring Book Volume 1
Keywords:
Colouring book, University of Edinburgh, Edinburgh
Synopsis
The University of Edinburgh as well as having great students and staff, has great stuff. Since its very beginnings, the University has collected books, art, archives, manuscripts, musical instruments and objects to inspire its community in learning, teaching and research.
One of the world's great collections has been built up over hundreds of years and constantly surprises those who come to view and enjoy the items.
The illustrations in this book are inspired by items and images within the collections and were collated by students during the Festival of Creative Learning Week 2019, and by staff in the Information Services Group.
We hope you enjoy and become curious to find out more.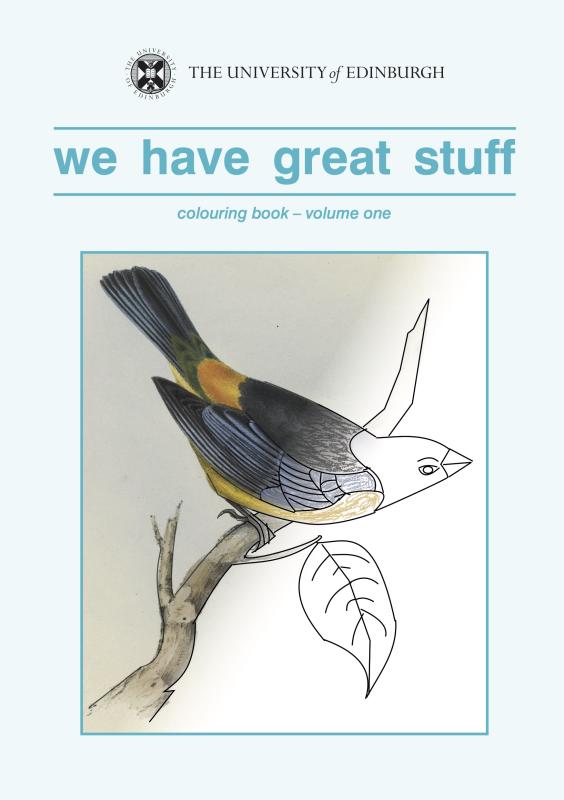 Downloads
Copyright (c) 2022 Stewart Lamb Cromar; Jackie Aim, Beth Rossi, Laura Beattie, Chinyere Herbert, Tracey McShane, Marta Christiansen, Kirsty McNab, Sarah Thomas (Illustrator); Qi Li; Asthana Devika, Emily Tanner, Crystal Check (Illustrator)
License
This work is licensed under a Creative Commons Attribution 4.0 International License.